"The Church is facing an epidemic of biblical illiteracy. A few decades ago, dispensationalists were leading the world in missions and evangelism, but dispensationalism is now disappearing from seminaries at an alarming rate. As a result, many Christians are poorly equipped for reading the Scriptures, teaching their families, and reaching their communities."

Back Cover, What is Dispensationalism?
This statement from the back cover of a new book, What is Dispensationalism?, released in the fall of 2018 is not an exaggeration. Churches and Christians are falling further from the truth found in the Scriptures. This is evident in sermons, small group studies, and simple conversations with everyday Christians — those who used to be known as "people of the Book."
Dispensationalism is not limited to a specific denomination. It's not a creed or a theological system that we bring to our study. Instead, it is the set of beliefs that a person will naturally come to if he or she reads and interprets the Bible for what it says, without adding or subtracting anything from the biblical text.
Based on this new book, a series of conferences is coming to local churches to reignite this type of Bible reading, study, and thinking. Each local conference features some of the 27 contributors to this book and their areas of specialty.
Register now for the South Bend, Indiana conference at Oak Tree Community Church, featuring Pastor Daniel Goepfrich as one of the conference speakers.
June 1-2, 2019 at Oak Tree Community Church
Copies of What is Dispensationalism? will be available for sale at the conference.
365 pages by Grace Abroad Ministries (2018).
Conference Speakers (South Bend, IN)
Paul Miles

Dave James

Daniel Goepfrich
Paul Miles
Executive Director, Grace Abroad Ministries – graceabroad.org
Paul and Lena Miles – themileses.com
Dave James
Executive Director, Alliance for Biblical Integrity – biblicalintegrity.org
Daniel Goepfrich
Teaching Pastor, Oak Tree Community Church – oaktreechurch.com
Founder, Theology is for Everyone – theologyisforeveryone.com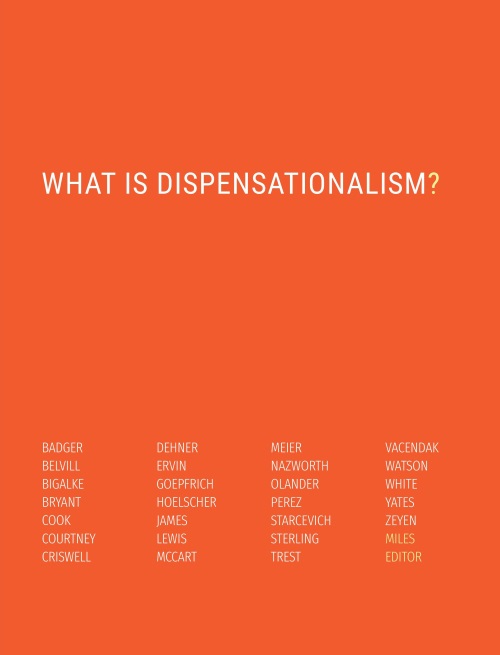 From the back cover
Partly apologetic, partly theological, and entirely practical, this book is a collaboration of twenty-six dispensational thinkers with a shared passion about the Church's need for biblically solid theology. Written with the layperson in mind, the authors address over thirty questions that Christians should be asking about the world's most important Book.
Table of Contents
Chapter 1: How did we get the Bible?
Article: Why is the Gospel of John Different
Graceful Debate: When was the book of Revelation written?
Chapter 2: What is grammatical-historical hermeneutics?
Article: Can we trust the biblical manuscripts
Chapter 3: What are dispensations?
Article: Should we still wait for the kingdom?
Chapter 4: What are the covenants?
Article: Has the church replaced Israel in the covenants?
Graceful Debate: Who participates in the New Covenant?
Chapter 5: What is the Bible about?
Article: How does doxological centrality help us understand God, the church and the future?
Article: Is the kingdom already and not yet?
Chapter 6: Is the Old Testament relevant today?
Article: Why were there animal sacrifices?
Chapter 7: How were people saved before Jesus came?
Article: If we are saved by grace, why should we be good?
Article: Was the Sermon on the Mount a gospel presentation?
Chapter 8: How is Jesus' ministry part of the Bible's storyline?
Article: What defines the kingdom?
Article: What was the purpose of miracles?
Chapter 9: What is the church?
Article: Do Christians still perform miracles?
Graceful Debate: When did the church begin?
Chapter 10: What will happen in the future?
Article: Did the Bible foretell the re-establishment of Israel?
Chapter 11: How does dispensationalism impact systematic theology?
Article: How does God administer grace to mankind?
Article: What does it mean that Israel is elect?
Graceful Debate: How old is tthe universe
Chapter 12: How do covenants relate to the kingdom?
Article: What are Amillenialism and Post-millennialism?
Appendix A: Is dispensationalism new?
Appendix B: When did Christ die
Appendix C: What is Covenant Theology?
Appendix D: What is Progressive Dispensationalism?