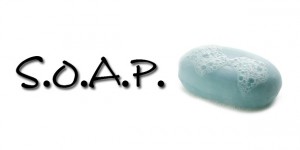 S.O.A.P. is a simple acronym to help us remember that the Bible is the best tool to keep our lives clean before God when we read and study it regularly. Using the S.O.A.P. method you'll:
read a

S

cripture passage;
write down an

O

bservation;
see if there is an

A

pplication to your life;
then commit that area to God in

P

rayer.
Listen to Pastor Daniel's 2-part message series on S.O.A.P.
Download our current S.O.A.P. reading schedule.
Watch current and past video introductions to weekly S.O.A.P. readings.
---
Other recommended Bible reading plans:
First Steps Reading Plan (1 year) – A great starter plan for young people and new Christians
The Essential 100 Challenge (100 days) – Get a great overview of the whole Bible by reading 50 Old Testament and 50 New Testament passages
Essential Jesus (100 days) – 100 passages to help you discover who Jesus really is and why he is so significant
The Bible in a Year (1 year) – It's just what it says; read through the whole Bible over the course of one year. Great for any reader at any level.
Still not the right one for you? You can find many more Bible reading plans here.